As a response to the COVID-19 virus outbreak, all lessons are currently taking place online, using Zoom. This can be installed on your computer, smart phone or tablet. Please position the camera so that I can see your hands and instrument. If possible use a wired connection to your PC.
Zoom can be downloaded for free from zoom.uk/download. You do not need to register for an account.
---
Guidance for online lessons
Lessons for under-18s must be initialised on a parent/guardian's account. A parent/guardian should remain present during the lesson.
Zoom is to be used for lessons only and not for other contact, e.g. sharing photos or general messaging.
The lesson should take place in a neutral setting e.g. living room, kitchen or music room. Bedrooms are not appropriate places for lessons.
Students must wear appropriate clothing. Pyjamas (or other night wear) and beach/swim wear are not considered appropriate.
Please have a pencil and your notebook available. It will be your responsibility to notate your music and keep track of what you need to practice between lessons.
---
Getting the best sound quality with Zoom
By default, Zoom is optimised for voice calls (speech). It makes an effort to filter out music, thinking it's unwanted background noise. To stop this, there is a setting but it's hidden away in the menus. Here's how to activate it:
Click the small cog at the top right of the main screen to go to your settings, then click on "Audio", then "Advanced".
Make sure that "Show in-meeting option to Enable Original Sound from microphone" is checked. This will give you an extra button on your screen during the call ("Turn on Original Sound") which you can click to improve the quality of the music.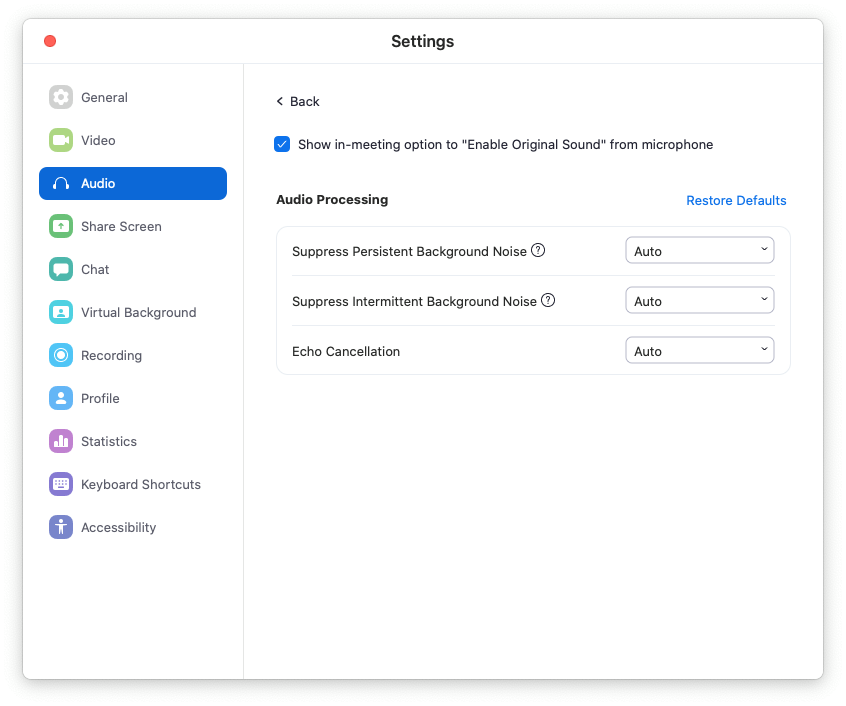 ---